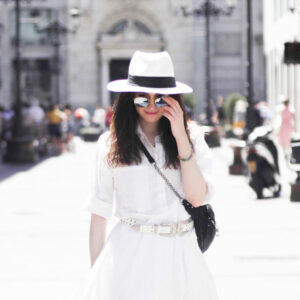 My name is María Pilar. Currently I work in digital marketing, SEO but my next step is in UX Research. 
Inside UX research, I work with trend forecasting to give a future's perspective and when the situation requires it, I work with cultural research frameworks.
Mixed methodologies.

Exploratory/generative.

Evaluative.

Desk research.

Netnography.

Personal interviews.
Heatmaps
Tree testing
Ethnography
Card sorting
SUS
Kano model
Heuristic evaluations
Empathy maps
User journey
Accesibility
User testing
A/B testing
I consider myself quite a curious person and that can be seen how my passions have evolved and grown throughout the years. That has given my the opportunity to experience and discover different areas and enjoy all of them along the way.
All started when I was 17 and found out about coolhunting. I remember reading an interview in a Spanish magazine on this woman who worked on trend research in Coca-Cola, that struck me so deeply that I still remember it —the number of times I have searched for that same interview!
Without a doubt, it was something that caught my attention and something I what I wanted to do. However, when I searched about it on the Internet, there wasn't a lot of information on this area. That was about 10 years ago so I had no idea what to study, so I left that idea on the side for a while.
When it was the moment to decide what to study, I chose English Studies. The reason behind it is because languages, and especially English, as well as the culture sparked my interest. Looking at all the different subjects from linguistics, to literature, history and culture among others, I thought that it was a great option at that moment. Since it was such a broad degree, my professional career could be too.
So right after finishing my degree, I kept studying and followed my other passion, fashion. Researching about cool hunting, I saw that these two areas were very close and during university I started a blog in which I talked about the trends I observed and I liked to frame them in a cultural and social context. I studied personal shopping, fashion styling and visual merchandising. I wanted to know more about fashion in a more personal way, especially how it influences people. I also discovered its commercial as well as creative part with visual merchandising. I found out that in a shop, nothing is by change and every detail has a reason behind to get the consumer's attention.
"After finishing these studies, coolhunting was something that I still wanted to pursue"
After finishing these studies, coolhunting was something that I still wanted to pursue. I finally found a course related to this area and it was all I was looking for! I learnt a lot about trend research and how it is so important to use in organisations. At that moment, I also had the opportunity to study a masters in digital marketing, advertisement and design, I thought that it was a good idea  to learn these important skills that I was already using in my blog at that moment. At the same time, I started an internship at a digital marketing agency where I focused on SEO.
During all these years working in digital marketing, there were some aspects that gol my interest, among them was analytics to understand the user and detect its behavior. 
There I found out about UX and especially about UX research, my latest study where I could learn more about carrying out different research methods and know how to answer the users' needs.
"… among them was Analytics to understand the user and detect its behaviour. That's where I found out about UX and especially UX research"
I haven't stopped researching and studying on my own about cool hunting and other disciplines like trend forecasting or future studies. Both fields, UX research and trend forecasting share many interesting processes, they are complementary to each other. Since knowing the current user and studying its evolution, will give us clues about what should be the next move and keep innovating.
English Studies
I found it so important to understand cultural aspects in internacional environments. Even though there's not a common language, understanding the cultural background is so important.
Personal shopper
It's essential to know the needs of your client as well as their tastes in order to bring them what they specifically need.
Visual merchandising
In order to give customers a better experience in-store you need to find out about their behavior, especially in order to satisfy their needs alienated to the shop's goals.
Marketing digital
User's search is an important tool to get to know the user. Data about their behavior is essential to design a good user experience.
Coolhunting y Trend Forecasting
Figuring out what are the current trends that will help us navigate the future and anticipate all these new opportunities
UX Research
Know the user to design better products and experiences that will adapt to the necessities and tastes of the users.