Scandinavian countries have been on top of fashion and design for several years. Scandinavian style or best known as minimalism, it's characterized by its simplicity, the use of neutral colors, clean lines and especially comfort. However, inside Scandinavian style in fashion, we can see an opposite current full of vivid colors and prints also called Scandinavian.
One of the most important runways was celebrated last August 6th in Copenhagen. We could find a combination of brands that maintained the classic minimalism adapted to Summer 2020, ones that decided to put some color and prints into the runway and others that were in the middle and presented a combination of the best Scandinavian style. Here I introduce you to the latest from Copenhagen Fashion Week 2020: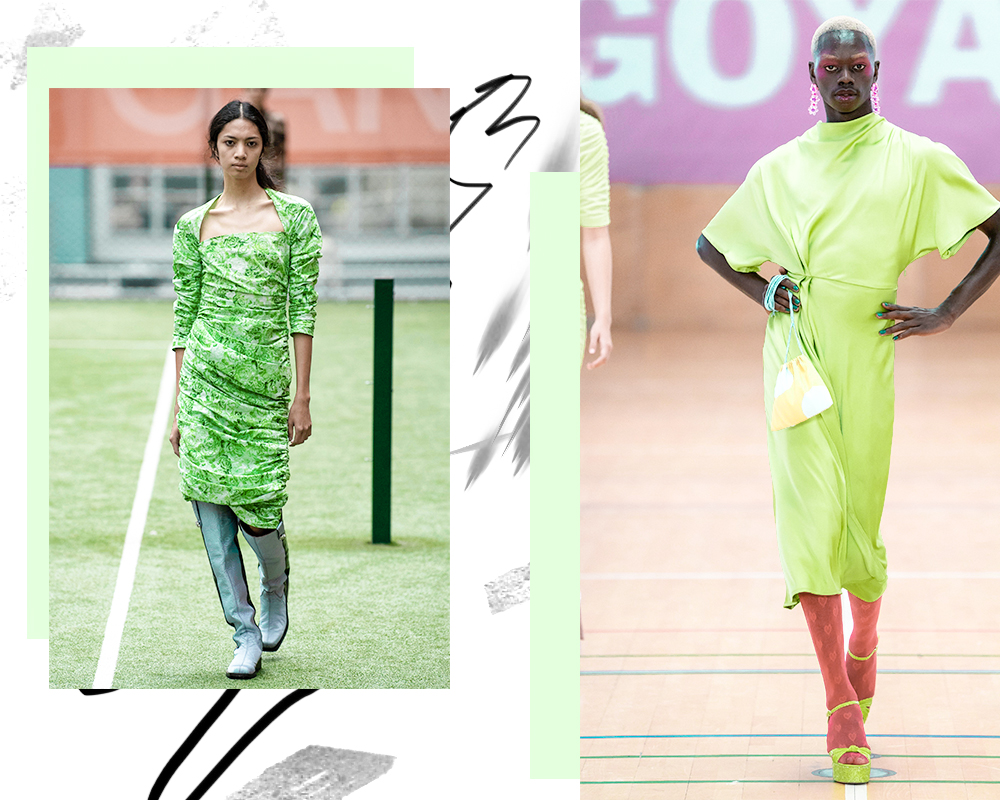 Color of Summer 2020: Green
Green is starting to emerge as a new trend but next year will be coming strong. Among the different shades of green, a light green color or "neo mint" as they call it in WGSN will become the next summer color trend in 2020.
But overall, it will be a line of light and pastel colors in plain and prints just like in Ganni, Cecilie Bahnsen or Stine Goya.
Sustainable runway
The fashion industry is already adapting to the reality of climate change with sustainable clothes and practices. It was about time that fashion showed brought a positive impact on the environment.
Ganni has adopted a positive approach for their runway shows with the purchase of carbon footprints produced by the means of transportation of their guests, it's basically a self tax meant for social causes in the 3d world. Another action is the recycling of fabric and stock clothes to create new designs for their collection "Double Love".
Another brand that has collaborated with the environment is Holzweiler. The Norwegian brand recycled the fabric used as a backdrop for their latest show, for their guests' gift bags and instead of using plastic bottles, they included reusable water bottles.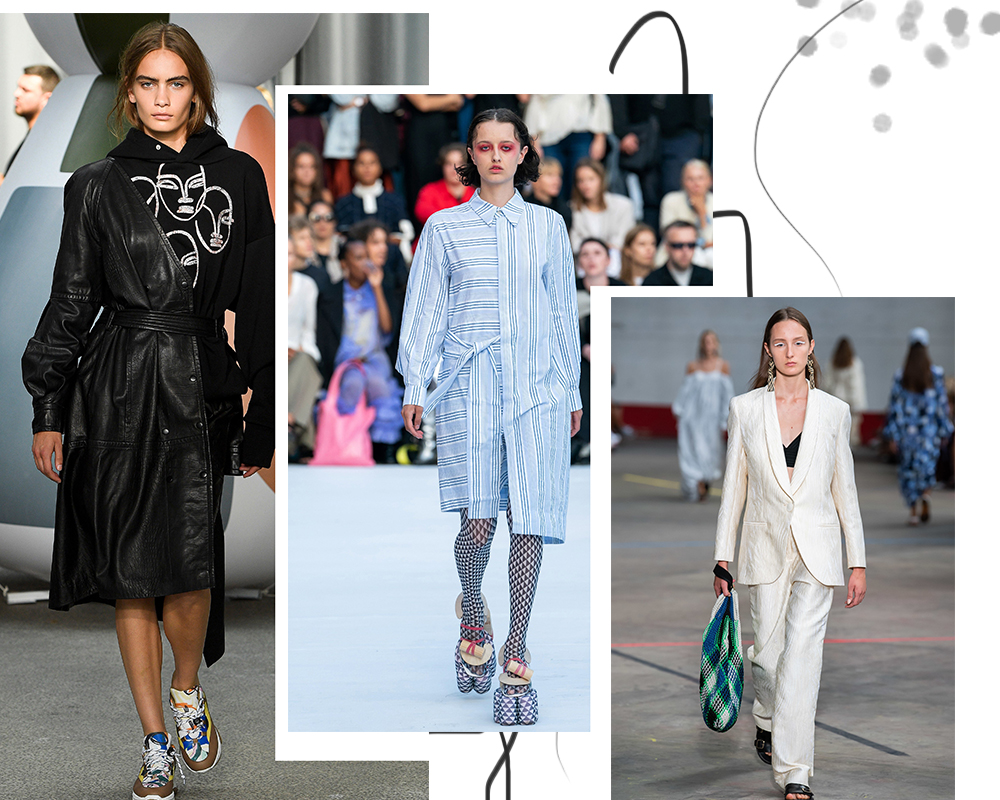 Classic lines deconstructed
So far we have been working with classic cuts and lines like the tailored suits and shirts. Both of them will never go out of style and they will always be reinvented into new ways.
We can find deconstructed shirts and suits at Munthe or Henrik Vibskov or even the oversize suit by Malene Birger.
Cowboy boots
Western style will come back in 2020 as seen in Saks and Potts, replacing the total denim look with colorful pleather and accessorizing the waist with wide belts and the head with cowboy hats.
However, the most prominent piece will be cowboy boots, just like it was seen in Saks and Potts and Résumé, especially worn with puffy "baby" dresses.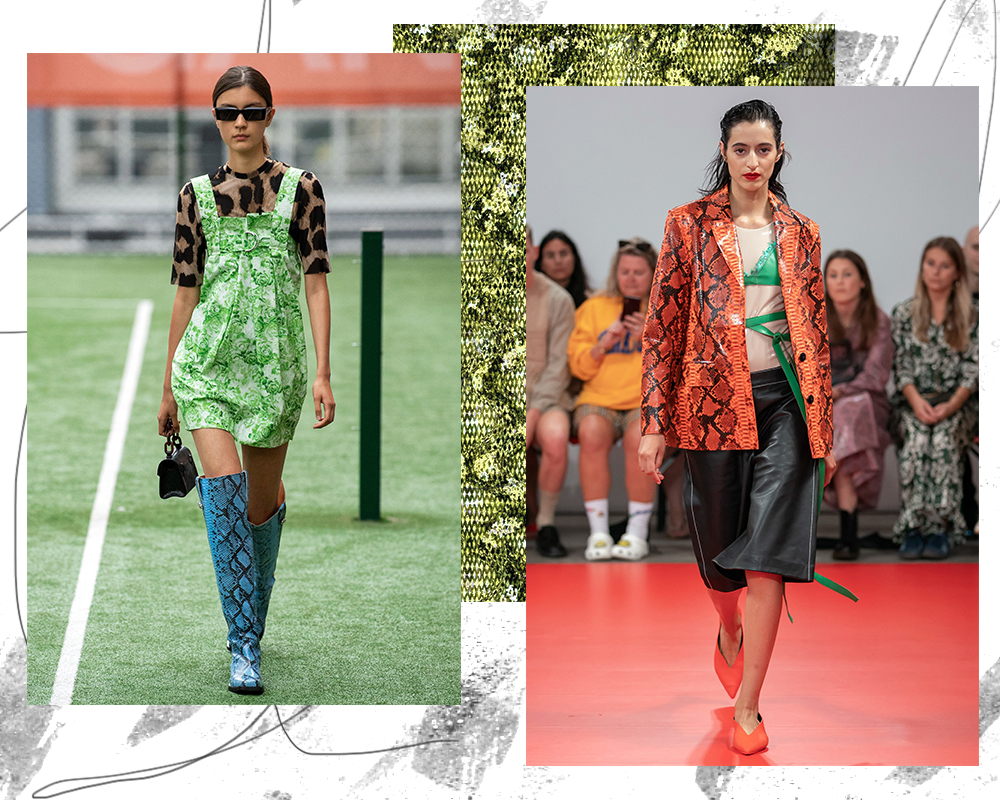 Snake print
Leather prints (as long as they are not genuine) being leopard, crocodile or snake, have been used in many designs the past years. However, this year they will come back in a colorful way to our wardrobes.
The snakeskin print will be more prominent in a great variety of colors just like Ganni has done with their boots or Stand with their jackets.
Inclusivity
Even though there's still a lot left to do when it comes to minorities like LGBTQ or ethnic, there are brands who work to be more inclusive and translate that environment to their shows just like Stine Goya has done this year.
Their show was a wave of diversity, they worked with Bumble in order to find different types of women who were willing to participate in their show. That way, they got to create a positive environment where all women got an opportunity to shine in the brand's designs.