When it comes to fashion, women have always been in the center both as a market as well as in production…. but why are there so few women in leadership positions?
In the study conducted by PWC, 'Unraveling The Fabric Ceiling', they found out that even though there are more women than men in fashion schools (80%), it is men who always get to the higher positions.
Diving into the study, we find out that 12.5% of retail and apparel companies in the Fortune 1000 are led by women, a much lower number than other industries such as the aerospace or defense industries with 20%.
This means that in the 61 womenswear companies from that list, 75% have predominantly male corporate teams.
Yet, women are still the ones who make most of the purchasing decisions when it comes to apparel.
When we analyze the bigger picture, we see that women are much more present in entry-level roles but when it comes to leadership, the numbers are much lower with 12.5% of women as CEO and 26% as board members.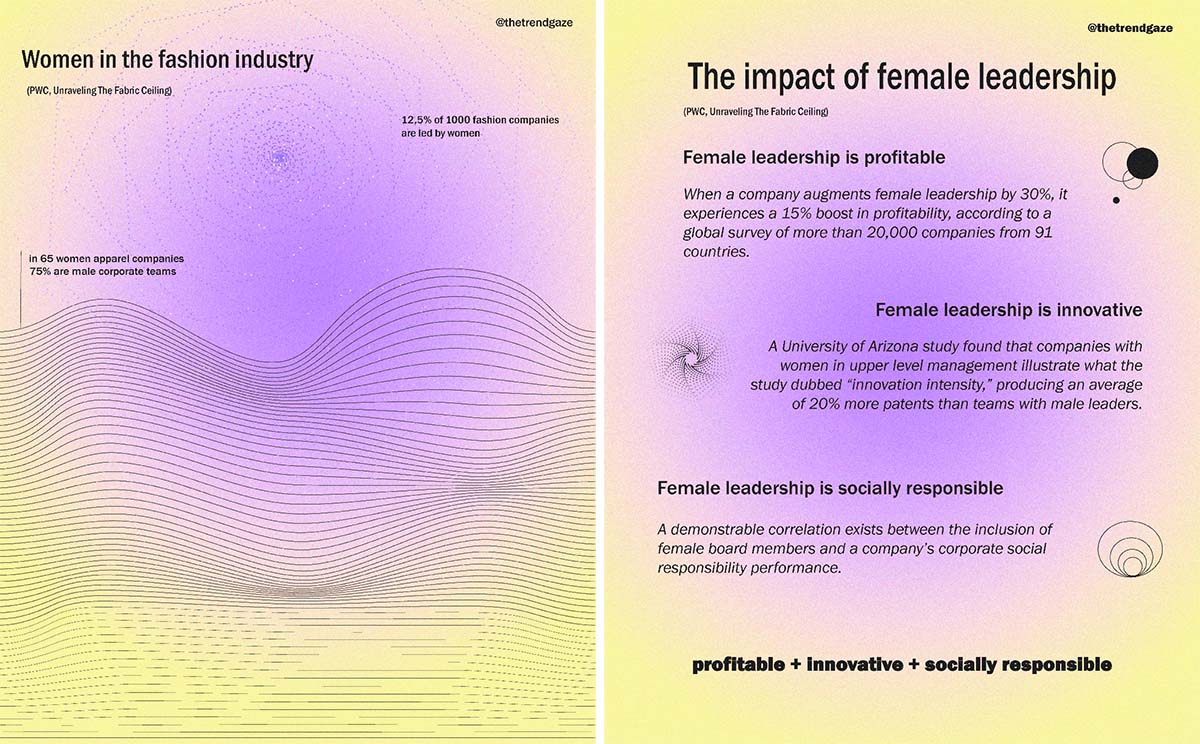 The impact of women in a leadership position
It has been demonstrated that female leadership can bring a positive impact to a company. Companies with female leadership have experienced a boost in both profitability and innovation as well as a more socially responsible performance. More and more women are taking entrepreneurial steps in the fashion industry by leveraging tech. Technology has been a catalyst for fashion innovation and we must pay attention to the women working on it. After all, who is going to understand us better than ourselves?
Women who are leading in the fash tech industry
Companies are changing in a moment when technology and the Internet are helping to democratize entrepreneurship. We have seen this in 2020 when a tech company is created every half an hour.
Many women have taken advantage of this opportunity to create new entrepreneurial concepts that combine fashion and technology for a female customer. 
Drestip
One of these companies is Drestip, a Spanish company founded in 2016 by Rocio Lumbreras and Patricia de Juan. It's a search engine for fashion and shoes both for women and men as well as home and beauty categories with international as well as Spanish brands. 
In 2020, due to the pandemic, they decided to give their two cents to help Spanish SMEs that because of COVID they had to close or reduce their brick and mortar presence. This platform has ended up being a showcase for these brands with little online presence by encouraging national consumption. 
Natalie Massenet
At an international level, we have Natalie Massenet, the founder of NET-A-PORTER that at the beginning of 2020 started as a clickable online magazine where readers could purchase online the luxury items that appeared on the magazine. After its incorporation in the YOOX group, Natalie left to enter another of the biggest luxury e-commerce, Farfetch as a non-executive co-chairman. Natalie still keeps her natural entrepreneurial attitude and in 2018, she founded with Nick Brown, Imaginary Ventures, a Venture Capital Fund that believes and supports startups that combine retail and technology in Europe and the US. I'm sure you have heard many of the startups they support such as Everlane, Mejuri, or Glossier. 
Billie Whitehouse
Billie Whitehouse is the founder and CEO of the company Wearable X, it's an Australian company founded in 2013, that combines fashion and technology to improve the life quality of people. Nadi X is the company's latest project. It's a technology implanted in yoga pants that detects all the different yoga positions and with little vibrations, it helps you improve your practice.
Iris Van Herpen
Iris Van Herpen is one of the most well-known designers for her use of 3D printing in all her collections. Even though it's a digital process, it's also craftmanship, having a regular appearance in Paris Haute Couture. Her collections are always architectonic pieces of art with a futurist inspiration. She often uses sustainable fabrics, as in her latest collection in which she has used fabric made from ocean plastic. It's the perfect combination of technology, sustainability, and fashion.